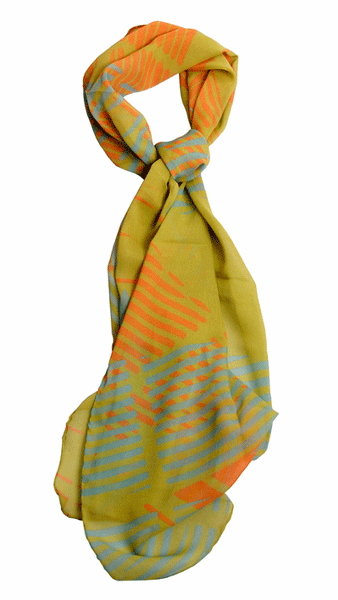 Geometric Berlin, silk scarf square
Ladies square silk scarf in green, blue and orange. A light weight scarf adding a splash of colour in natural silk georgette. 
The geometric design was inspired by Foster + Partners Dome on the Reichstag, in  Berlin.  The design was created from the spiral walkway and mirrors inside the dome.  

Silk Georgette scarves have a slight vintage feel with contemporary designs. Silk georgette is a sheer, lightweight, matt-finished crêpe fabric which drapes beautifully.
100% silk georgette
All-over design
Double pin hemmed edges
Signature branding in one corner
Size 88cm x 88cm  approx
Our scarves are ethically produced in the UK and created using environmentally considerate dyes and natural materials.